To share with all of you, in honesty, I have never ever cooked with a recipe, nor written one down in my life! This is the first time, that I have made an effort. I have smelled and tasted and would know exactly what ingredients have gone in that dish, or in what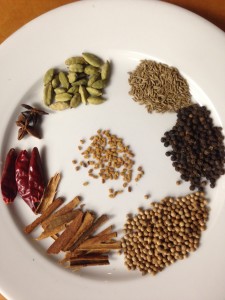 proportion, or quantity. I have always used the pinches and handfuls, where my friends and colleagues let me do that my way, and measured that in terms of Tsps  and Tbsps and cupful or half measures, the whole process was sure amusing.
This is a humble effort towards putting a glossary of terms and names together, a process to make things simpler for those who are across the globe and the ingredients are a bit difficult to find. Things that you can substitute the original component in a dish with, go brave, experiment, have fun, and do remember to add that "One Pinch of Love" to whatever you make.
Basic Spices:
Namak / Meeth : Salt
Sakhar/Cheeni/khaand/Shakkar: White Sugar
Gurr/Goll/Gudd: Jaggery
Lal Tikhat: Red Chili Powder
Haldi: Turmeric
Jeera: Cumin seeds
Methi dana: Fenugreek Seeds
Kali Miri : Black pepper Corns
Mirpud: Black pepper powder
Hing: Asafoetida ( a resin)
Mohari/ Raii : black Mustard seeds
Mohari Daal: Split hulled Black mustard seeds
Dhania: Coriander seeds
Gota Khobre: Dry coconut
Dalchini: Cinnamon
Velchi/Elaichi/Veldoda: Green Cardamon
Doda Elaichi: Black Cardamon
Jaiphal: Nutmeg
JaiPatri: Mace
Tamalpatra/ tejpatta: Bay Leaves
Kalaunji: Nigella seeds/onion seeds
Badaain/Chakriphool: Star Anise
Badi Saunf: Fennel
Kashmiri Saunf: Anise
Ajwaain/Ovva: Carom seeds/ bishops weed seeds/thymol seeds
Lavang/Laung: Cloves
Shahjeera: Black cumin seeds/Caraway
Khuskhus: Poppy seeds
Anardana: dried Pomegranate seeds
Chinch/Immlii: Tamarind
Safed Till: white sesame seeds
Kala Till: Black sesame seeds
Kasuri Methi: dried Fenugreek leaves ( tender shoots)
Kessur/ Keshar: Saffron
Sarson: Red/yellow Mustard seeds
Saunth: Dry ginger
Amchoor: Dry raw mango (powder)
Patthar/dagad Phool: Rock flower ( a kind of moss found in the mountains)
Soppa/Shepa: Dill Seeds