Kulchhaa
Kulchhaa is a No Bake fresh flat bread, soft on the inside and crispy on the out, butter brushed, and a dash of nigella seeds to add to the magic of flavor!
1 cup APF/ Maida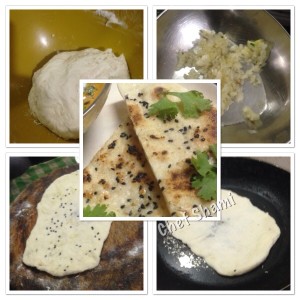 1 tsp Active/live yeast
( you can also use sour Plain Yogurt instead)
1 tbsp oil
1/2 tsp baking soda
1/4 tsp salt
2 tbsp minced garlic
1 tsp Nigella seeds/Kalounji ( also known as onion seeds)
3/4 cup warm water
1 pinch of Love
1/4 cup APF for  rolling
sift the flour in a mixing bowl, with Baking soda and salt.
make a well in the middle and pour the active yeast, or Plain yogurt ( Nancy's or Greek yogurt works best)
add the oil, and mix well.
add the warm water gradually, until all comes together in a soft pliable dough. never pour the whole quantity of water at once.
cover it and set it aside for 20 minutes
Heat a thick bottom shallow frying pan or a cast iron griddle with cover, for 10- 15 mins.
The dough is risen nicely in the mean time, you may need to keep it longer if using yogurt.
Knead the dough well, by folding it in and repeat.
Divide it into equal parts, with a fist size chunk ball for each kulchhaa.
sprinkle your rolling board with dry flour, dredge the dough ball in dry flour, flattening it and giving it a slightly oblong shape.
put it on the dusted rolling board and pat it with gentle hands, simultaneously pulling it out at the same time, like a pizza base.
you can also roll it gently with a rolling pin
Sprinkle a pinch of Nigella seeds uniformly on the surface and pat them in.
Sprinkle 1/4 tsp of minced garlic, and pat it in give it a final gentle roll if you like.
You can also put more garlic if you like.
lift it off the rolling board and put it on the griddle, garlic side down, this seals the garlic
as soon as it start showing bubbles, flip it over and keep for a min longer.
Brush the top with a dash of melted butter and flip it, letting it cook till the surface is light brown,
If you like you can add more butter while serving.
serve hot with any curry or Chhole
To make it more interesting you can also add chili flakes

you can also make stuffed Kulchhaa, or onion kulchhaa too