Namkeen Mathhari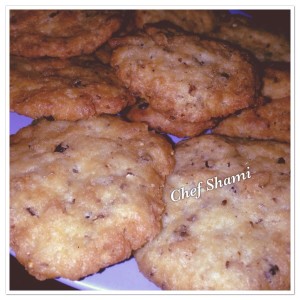 1 cup APF / Maida
2 tbsp Ghee/ oil
3/4 tsp salt
8-10 Black pepper corns broken
1/2 tsp Ajwain Seeds
1 pinch of love
1/4 tsp granulated sugar/ brown sugar
1/4 cup water or as needed
Oil to fry
Sift the flour in a mixing bowl, add salt and sugar
Add 2 tbsp ghee or oil in the flour and mix well, crumbling the flour with your fingers like short bread dough.
Add the Ajwain seeds and the broken Pepper corns, mix well.
take a bit of that flour and tightly close your fist, if the dough doesn't fall apart in your fist, it is the right consistency, if it is falling out and not forming a tight bunch, you need to add a touch of more ghee or oil.
now sprinkle water little by little, and knead it into a firm dough. You do not need to use up all the water if you feel the dough had come together well and firm.
Divide it into equal lemon size balls, usually makes 10-12 depending on the size, you can make smaller if you like to have bite size pastry.
Flatten the dough ball between your palms, ready to fry.
Heat oil in a frying wok, release 2-3 patties at a time,
flip as soon as you see it changing color to a golden shade
Drain it by tilting it on the side of the wok, before scooping it out.
PS: I usually also add in whatever leftover Chivda/ farsaan/ shev, to give it a slight , texture, in that case do not add salt, as this mix already has some in it.
Let it cool and store in an airtight container.
serve with hot Chai or Coffee !