Pumkin Raita, also known as Bhoplyache Bharit in Marathi, is a wonderful side dish to go with spicy curries. I like to eat it on its own too at times, as a light meal. You can serve it with chips or celery sticks too.
2 cups of Pumkin cubed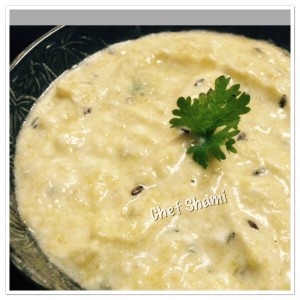 ( you can use any kind of squash)
1 cup Plain yogurt
1 tsp cumin seeds
2 tsp oil
1 green chili pepper slit lengthwise, deseeded
1/2 tsp salt
1 tsp sugar
1 pinch of Love
Fresh cilantro for garnish
peel and cut the pumpkin into small 1 inch cubes or as convenient
Boil the cubes in water till tender
break them with a fork not mash
let it cool, add yogurt, salt and sugar and mix gently with a fork
Heat oil in a small pan, add the cumin seeds n bloom them.
Add the slit green pepper and turn the heat off.
Pour this seasoning over the dip and mix well.
Garnish with 1 pinch of love and fresh cilantro

To ensure that your guests do not chomp or choke on the chili pepper, remove it before serving

If you want to make this for vegan guests, skip yogurt, and add crushed roasted peanuts and a dash of lime juice, as a Pumpkin Salsa