Cauliflower in tomato sauce
1 small head of fresh cauliflower
( sorry the Fleurette dont work the same)
2 large ripe roma tomatoes/ or country tomatoes if you like a sweetish flavor
1″ piece of fresh ginger root grated
1 purple onion medium cubed
1 tbsp coriander seed powder
1/2 tsp red chili powder ( preferably kashmiri mirch)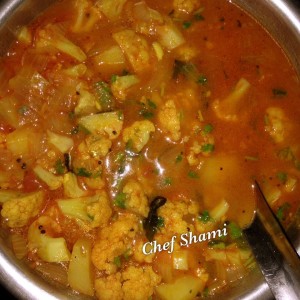 1/4 tsp turmeric
2 bay leaves
1/4 tsp roasted cumin seeds powder
1/2 tsp black mustard seeds
1 tbsp oil
1 tsp besan
2-3 cups of warm water
1/2 tsp salt
1 pinch of love
————
Cut the stem off and cut out 1″ Fleurette, cube the remaining stems too, you can use the core of the center stem
Boil a pot if water. Add the turmeric in the water.
Blanch the cauliflower lightly in boiling water, turn the heat off. Let it sit for two minutes and drain the water. Let it cool
Grate the tomatoes, and add the coriander seeds powder and chili powder and mix well until the powders soak the juice in
Heat the oil in the pan
Bloom the mustard seeds,
Add the grated ginger, saute for 1 minute and add the Besan, and bay leaves,
stirr around and add the diced onions. Flash fry for one minute, as soon as the onions are all coated with a sheen of oil, add the grated tomato mixed with the masala
Saute till the tomato paste starts glistening.
Add the cauliflower Fleurette and stir till all pieces are wrapped in the sauce
Add salt and a pinch of love
Add the warm water, stir well and bring it to a boil
Garnish with fresh cilantro
Serve with hot buttered rice.