Bhutte ka Keis
A heart warming Malwa dish!
A Must Eat in the Indore itinerary.
4 large but tender Corn cobs
1 1/2″ fresh ginger root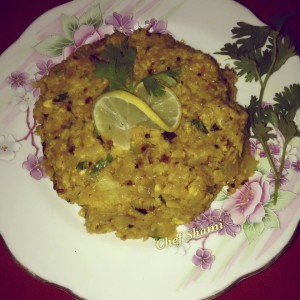 6-7 peeled garlic cloves
1 medium purple onion fine diced
4-5 green chili peppers
Fresh cilantro fine chopped( with the stalks)
1 lemon, juice of 1/2 a lemon
2 tbsp oil
1 tsp black mustard seeds
1/2 tsp Turmeric
1/4 tsp hing ( asafoetida)
1 pinch of Love
1/2 tsp salt
—————–
Break the cobs into halves and grate them on a medium hole grater
Pound the ginger garlic and green chilies coarsely
Heat oil in a thick bottom wok or frying pan
Add black mustard seeds and bloom them, add hing
Follow by adding ginger garlic and chilies, stir, immediately add the fine diced onion.
Flash fry for one minute and add turmeric
Add the grated corn and stirr well, add salt
Saute in open pan for 5 mins. Folding it briskly centre out to in.
This helps the excess moisture to evaporate faster.
When the mixture starts consolidating, lower the heat and cover the pan, let it cook for 4-5 mins.
Repeat folding it briskly again. Loosen the mix, by breaking it with a spatula in a quick chop/ shred movement
Squeeze the juice of 1/2 a lemon and stir once.
Add the fine chopped cilantro and a pinch of love. Serve hot with a lemon wedge
You can add a pinch of Jiraman or Chat masala if you like.
PS:
Using generic corn will always give the best results. Sweetcorn tends to linger the sweetish taste.