30 lemons
250 gms green chilies
100 gms fresh ginger root
2 tbsp turmeric powder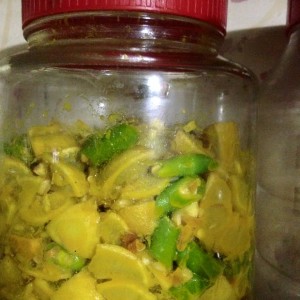 4 tbsp salt
1 cup vegetable oil
2 tbsp mustard seeds
1 tsp hing ( asafoetida)
1 Pinch of Love
——–
Cut lemons into as small pieces as you like
De stem the chilies and break them into smaller pieces
Cut ginger into half lengthwise , cut thin half rinds
Take a large mixing bowl and mix everything with a dry spoon/ladle.
Add turmeric, salt and muddle the mix a bit with gentle pressure
Heat oil, add mustard seeds, allow them to bloom, turn the heat off. Add hing. Let the oil cool
Fill the mix in a glass jar.
Add the oil seasoning once it is absolutely cooled.
Put the cap on the jar and leave it alone.
Next day mix everything with a long handle ladle or spoon.
PS : those living outside India- you can get key limes and wrap them in a Turkish towel and leave it in a warm place for a couple if days. They will turn ripe for use.
Substitute green Thai chili peppers or green Jalapenos.
This pickle is also medicinal home remedy for a queasy upset tummy.