Gabbu Paraantha
This is a funny name coined by my grandmother ! always has been my favorite.
2 cups Whole wheat flour/ aatta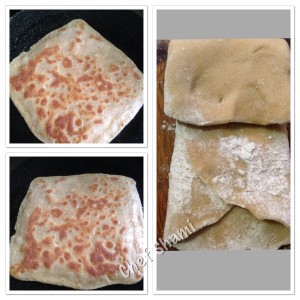 1/4 tsp salt,
1 tbsp oil
1 pinch of love
1 cup water or a little more if needed
1/4 cup flour for rolling and dusting
Mix the salt and oil in the flour
add water and soft knead as you go, bringing the dough together
we need a firm but pliable dough.
do not add water after the dough is formed, that is why you should sprinkle water bit by bit, so that it brings all the crumbs together.
smooth it out with a touch of oil, and cover it for 10-15 mins.
take the dry flour for dusting and dredging in a flat bowl or a plate
Take a fist size ball of dough, roll it between your palms and flatten
roll it out to a size of a small saucer, and lightly brush it with oil with your fingertips
dredge the oiled side in dry flour
fold it on two sides legthwise
dust it again with dry flour, now fold in the open sides to close like and envelope
pat it firmly, and roll it out again to a saucer size, repeat the folding process one more time.
now roll it out to a 8×8″, while rolling, bring out the corners with the rolling pin, then roll again, this retains the square shape. Roll with gentle pressure.
Heat the Tavaa/ griddle on a low heat, while you are rolling so that it is ready by the time you have rolled out the fi
first one.
flip it on the other side as soon as you see slight bubbles on the Paraantha.
cook the 2nd side a little more, brush the first side that is facing up now, with oil or butter and flip it over, brush a 2nd side with oil or butter too and let it become a bit crisp, but not burnt.
take it off the Tavaa/griddle, and serve hot with any curry or dip
You can also make small sizes, sprinkle those with salt and pepper and can be served as a healthy wholesome snack too.
All the layers form separately, giving a wonderful light flaky taste.
You can also add a pinch of roasted cumin seeds powder, or salt and chili powder in the folds to give it a savory taste