Daal Tadka
2 Cup Toor Daal ( yellow Split peas/ Toovar/Arharr Daal)
1 Large tomato Fine Chopped (you can also cook this with the daal)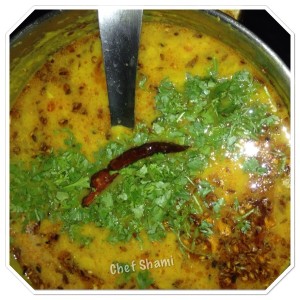 1 Medium Yellow Onion, Fine Chopped
5-6 cloves garlic, rough pounded
1 tbsp Oil
1 tsp Red Chili powder
1 tsp Coriander seeds powder
1 tsp garam Masala
1/2 tsp Whole Coriander seeds
1 tsp Cumin seeds
1 pinch of Hing
1 tsp salt
1/2 tsp Turmeric
1 pinch of love
2 whole red chilies
1 tbsp oil for top seasoning
2 green Chilies fine chopped
Fresh Cilantro for Garnish
————————————-
soft cook the daal, in a pressure cooker or a crock pot, You can cook it along with chopped tomato, in order to get the tomato to blend well in the daal.
heat oil and add the cumin seeds,Bloom them, followed by chopped green chilies,
Quickly add the hing and garlic and stir.
Add the fine chopped onion, turmeric, coriander seed powder and fry till the onions appear glazed.
Add the cooked daal, and stir, add salt and bring it to a boil.
Never add salt to the daal or any legume while cooking.
gently place the red chili powder on the surface without stirring,
Heat oil separately in a small wok, add bruised coriander seeds, whole red chilies, turn the heat off and pour the hot seasoning over the chili powder, this will bring a lovely color to the daal.
Garnish with fresh fine chopped cilantro and one pinch of love.
PS: tip for chopping cilantro- do not hack it, it bruises the cilantro and spoils it. chop it fine in the first place
Serve roti, Naan, jeera rice or Buttered rice.