Khamang kakadi (Indian Cucumber Salad)
A delicious maharashtrian salad, side dish, very cooling too.
2 Mavli Kakadi/ 4 Small cucumbers/ 1 medium English cucumbers
½ Cup Roasted Peanuts crushed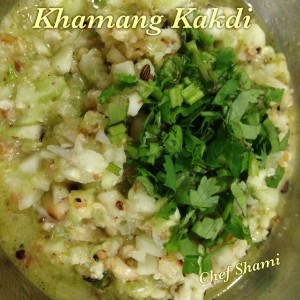 ½ tsp Salt,
1 tsp sugar
1 tbsp lemon juice
1 tsp cumin seeds
1 tsp ghee/oil
2 green chilies medium chopped
1 pinch of hing
1 Pinch of Love
Fresh chopped cilantro for garnish
Cross mince the peeled cucumber by rotating while mincing from the top, and squeeze the excess water out
Add the roasted peanuts powder, salt, sugar and mix well
Heat the ghee ( oil if vegan) in a small wok, add cumin seeds and bloom, add a pinch of hing and a pinch of love, turn the heat off right away, add chopped green chili last, so that it doesn't burn.
Add this seasoning to the mix, and stir well.
Serve with anything that is spicy, goes well with Pulao, Khichdi, or even hot rotis.