Pooris
2 cups of whole wheat flour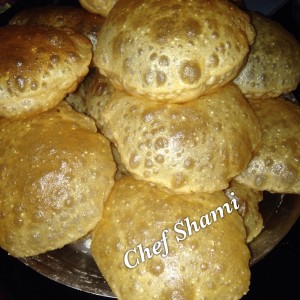 1 Tbsp Semolina/ Ravaa
1 Tbsp oil
1/2 tsp salt
1/2 tsp Jaggery/Brown sugar
1 pinch of Love
1 cup of water or more as needed
Oil to fry
Mix the semolina in the whole wheat flour, add salt and sugar, mix with a fork or your fingers. Make a well in the middle
Heat 1 tbsp oil and pour it in the well, on the flour.
Let it cool, then mix well and gradually add water, with one hand, soft knead the flour , bring it together with the other hand.
its best not to add all the water at once, because every cup of flour reacts differently.
when there is no dry flour left, start kneading the dough together, into a tight ball, pliable but not too soft.
put a few drops of oil on your fingers and smooth out the dough.
cover it with a bowl, and set aside to rest for 15-20 mins.
Heat oil in a frying wok, on low heat, while you roll out all the pooris
you will not need flour to roll because the dough doesnt feel sticky, after the hot oil treatment. smooth it out once by kneading softly.
break off dough into the size of a small donut hole, and role it between your palms firmly and flatten.
roll out pooris and keep them ready on a platter, to be fried 2-3 at a time or one at a time, as per the size of your frying wok. the pooris will not stick to each other.
drop a tiny ball of dough in the oil to check, if it pops up right away, the oil is ready.
gently release the rolled poori in the oil from the side, so that the oil doesn't splash.
it will start coming up to the surface and puffing up, press it gently with the slotted spoon, to let the steam building inside it spread edge to edge,
flip it to the other side and let it fry till golden pink,
scoop it with the slotted spoon, rest it on the side of the wok, to drain off excess oil.
place it on a platter or a colander to cool, repeat till all the pooris are fried.
Once you get the hang of it, you can fry 2-3 at a time and alternate, flipping the first one in.
serve hot with anything you like.
Kids love those with a dusting of cinnamon sugar too