Aai- my paternal grandmother , a phenomenal woman, in its true sense ! In my tiny eyes, she was the most beautiful woman in this entire World! The most modern woman, that ever walked this planet ! draped in a 9 yard saree, both shoulders always covered, standing tall and her eyes piercing straight through your heart, smiling warmly, with a mischievous twinkle ! My SHeroine !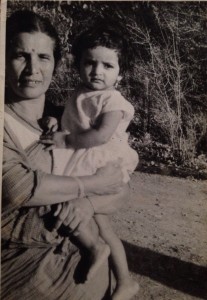 (Chef Shami with her grandmother)
Nothing was impossible for her, she charged like Rani Laxmi Bai of Jhansi, taking care of a huge joint family, without flinching, always possessing a solution to any problem. This is where I learned unknowingly, " If there is a problem, there always is a solution,we just have to find it" there is nothing in this world that is IMPOSSIBLE !
I was never taught the word "Limitations" go…….. , go , go ……….., the world is your oyster ! (I didn't even know what was an Oyster! LOL ) My tiny feet couldn't run fast enough to keep up with her pace. Whatever she did, I always felt, she was performing a Miracle! She could make a dumb roti blow up like a balooooooooon ! wow ! she was a magician.
I was always hanging at her sides, full of questions, and amazement, she patiently answered everything, teaching me the most precious knowledge, and me soaking up everything like a sponge. As I grew, into a gangly knuckle kneed teenager, who wielded a field hockey stick, rather than a rolling pin, my role in the food world was limited to only screaming the homestead down, demanding Foood ! Aaaaaaaaaiiiiiiiiiiii Bhuk !
More wonders, more magic, and absolutely fingerlicking delicious food ! I never knew my mind had recorded all those wonderful facts, and filed them away, in various corners of the rebellious mind ! I am forever indebted to her, Kamla Bai Alias Durga Shaligram !
A Phenomenal woman !